Family Adventure Geteway Special
*Click here to book your dates*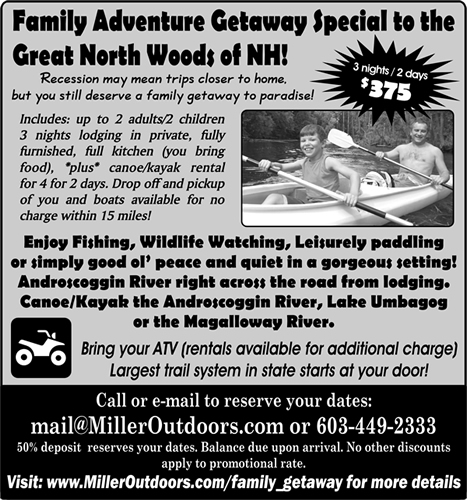 The lodge is divided into an upstairs and downstairs - each with its own facilities - accomodating two separate groups at the same time.
Full cooking facilities provided - stove, refrig, microwave, coffee pot, pots/pans/plates, etc.
Comfortable camp-type atmosphere
Kennel facilities for pets
Upstairs comfortably sleeps 5, downstairs 5, additional rollaway beds available.
Satellite TV
Snowmobile and ATV trail access right from your door.
Plenty of parking
You bring all food items - coffee, condiments, etc. and everything is self-service
You're responsible for leaving the lodge in the condition that you found it in
Check-in time 3 pm - Check-out time 12 noon
Directions
We're on the west side of Rt. 16, a couple of miles north of the Pontook Dam on the Androscoggin River, just South of the beginning of the 13 Mile Woods. Look for our "Miller Outdoors" sign on the west side of the road. There is a telephone pole with 3 blue reflectors on each side that's at the beginning of the lodge driveway.
-click map for larger version-

1185 NH Rt. 16
Dummer, NH 03588-5323

Type your starting location into the boxes above and let mapquest.com provide you with instant directions!

Note: there is one possible correction to Mapquest's directions. The last step they may tell you to "turn right on NH Rt. 16 for 1.6 miles". This is incorrect - it should read "turn left on NH Rt. 16 for 4 miles". See map to the left to see that we are north (left turn) of where Rt. 110A meets Rt. 16