Black Bear Hunt
We've got some big black bears in New Hampshire. Come try your skills against a true king of big game. Our methods of hunting have proven very successful.
To sign up for our Bear Hunting Newsletter click here.
We will be offering no bear hunts for the 2012 season.
Our stands will accommodate rifle, bow, muzzle loader and handgun hunters.
There are many recreational activities to pass the morning hours, or for those hunters who score early -- including trout fishing, coyote hunting or bring your camera to photograph moose.

2011 Bear Hunt Specials

Hunts over bait and natural food sources.
Includes: lodging, stand sites and transportation of trophy.
NO TROPHY FEES
Sept. 2010
3 nights/2-day hunt $925
4 nights/3-day hunt $1,125
5 nights/4-day hunt $1,325
6 nights/5-day hunt $1,525
These rates are per person.

Young hunters (16 and under, booking with an adult) are 50% off.
*5% discount NRA +/or NAHC members!
Not Included: big game hunting license/bear tag.
A 50% deposit must be received within 10 days of booking hunt. The balance is due upon arrival. Deposits are necessary to hold your date(s) of hunting. Due to the fact that your deposit secures our services for a specific time; unless we can book someone in your place, it will not be refundable.
Contact us today, and you'll be enjoying a great hunt before you know it!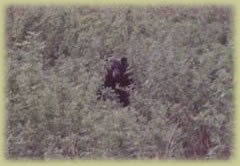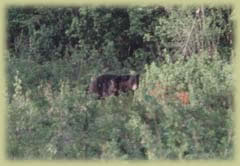 ... a big NH black bear awaits you ...
NH Fish & Game Black Bear Hunting Informational Link