Whitetail Deer Hunt
New Hampshire doesn't have the number of deer that a lot of southern states boast. In fact, due to the nature of our rugged terrain, the local licensed hunter success rate is approximately 12%. Hunting with us greatly increases your chances of success, and presence in the most productive "big buck" territory. 200+ pound bucks are not uncommon. It's also not uncommon to go three or four full days without seeing deer. Big bucks don't get to be big because they hang around with a bunch immature deer. This is big woods and you will generally be hunting one to three specific, large deer.



As with all of our hunts, we'd like to encourage you to bring a young hunter Free*. We feel that it is very important to promote hunting with our younger people and strongly believe that this is the single-most important thing that we each can do to ensure the continued enjoyment of the outdoors for everyone.
To sign up for our Deer Hunting Newsletter click here.
Match wits with a real trophy! -- Rifle or Muzzleloader -- you choose!
2012 New Hampshire deer season dates:
Muzzleloader: Nov. 3 - Nov. 13; antlered only
Firearms: Nov. 14 - Dec. 9; antlered only
Youth Deer Weekend: Oct. 27 - 28
Either-sex: Non-resident youth hunters may participate, provided NH youth can take part in youth deer hunts in their home state.
We feature a semi-guided deer hunt...
View 2012 Hunt Availability Here
To book/reserve your hunt online contact us.
Semi - Guided Hunt
*You're shown your stands (tree stands or ground blinds) the evening before or the morning of your hunts.
*New for 2008 season we have two 2-man ladder stands, with a weight limit of 500 pounds - great for sharing a hunt with a young hunter or friend.
*You take your vehicle to stands each day.
*You're responsible for handling your game.

Lodging can be included.
$30/person/night. Minimum nightly group charge of $90.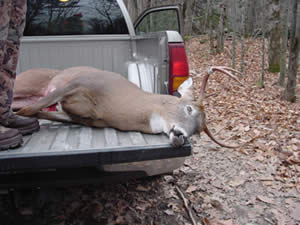 The Hunt: We heavily pre-scout our hunting territory to ensure that we give our hunters the best opportunity available for a quality hunt. We are constantly scouting and moving stands when it's warranted. Whether you want to hold out for a bruiser, or you simply want meat in the freezer, we can tailor a hunt to your objective. Deer are certainly not behind every tree, or seen every day, or even every week - but hunting with us gets you well ahead of the curve. Occasionally we get snow during our whitetail season -- what a treat! ....it doesn't get any better! We can at times accommodate one day deer hunts, although weekends are generally reserved for 2+ day hunts.
*Young Hunters Free: Young hunters, 17 and under, hunt with us at NO CHARGE. These hunters must posses basic hunting safety knowledge, be licensed if applicable by law, and be accompanied by a parent or guardian. Only one free young hunter per paid adult. Free young hunters do not count in total number of hunters for group rates.
Lodging: Lodging is available for an additional $30/person per night with an $80 night group minimum.
License Requirement and Cost: Click here for NH hunting license rates
Deposit Required: A 50% deposit must be received within 10 days of booking hunt. The balance is due upon arrival. Deposits are necessary to hold your date(s) of hunting. Due to the fact that your deposit secures our services for a specific time; unless we can book someone in your place, it will not be refundable.
Bag Limit: 1 per hunter
Items to Bring: Orange vest, compass, hunting knife, waterproof outerwear, waterproof boots and socks all according to season. Shotgun: 20 or 12 ga. with slugs or 00 buck, Rifle: anything that you shoot well -- .243 and up recommended, no full metal jacket ammo -- soft point premium ammo. recommended, flashlight, lighter, camera or camcorder.
Click here to view a tentative schedule of anticipated hunts.

| | | |
| --- | --- | --- |
| | | |
| Sometimes, when you're tracking deer on snow, you wonder who's tracking who. :o) | It's not hard to tell how old this rub is... (notice bark on top of that morning's snow) | It's also pretty easy to tell that this is a very fresh scrape... |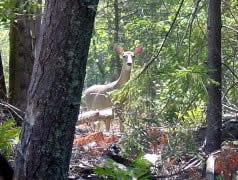 (this is a photo of a nice doe that posed for the camera to say'hi' while scouting in early September)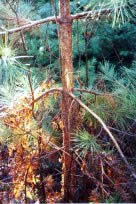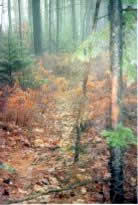 2 rubs -- made by a northern NH 'big boy'!
Contact us today, and you'll be enjoying a great hunt before you know it!